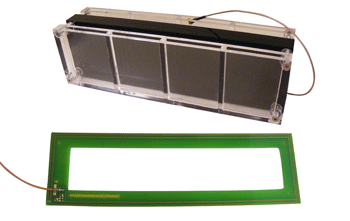 REQUIREMENTS
The client was seeking an application that could monitor and control the entire production line. Specifically, processed items, staff involved and the type of operation needed to be identified in all processing phases.
The idea was to identify each of these elements, including processed items that could not be identified with sticker labels, with an RFID badge.
The solutions on the market at that time were not appropriate to the type of application. In particular, there were no standard RFID products capable of reading up to 8 RFID badges at the same time.
SOLUTION
TERTIUM Technology developed a custom-fit solution based on BlueRFID HF pcb cards (OEM RFID cards) with a TTL interface, coupled with an antenna developed expressly for the specifications of the application.
The antenna was placed inside a rectangular Plexiglas stand with eight slots (4 on each side of the antenna) capable of holding eight badges.
Using Plexiglas led to creating an elegant and functional object; the transparency of Plexiglas makes each badge visible to staff even when placed inside the stand.
---
CUSTOMER
CERACARTA S.p.A
CERACARTA S.p.A manufactures special chart paper and accessories for medical electro-diagnostic and industrial data recording instruments. Its production and organization structure places it in a position to offer the market very high quality products that are developed with the greatest attention to containing costs and with an unprecedented flexibility in production.