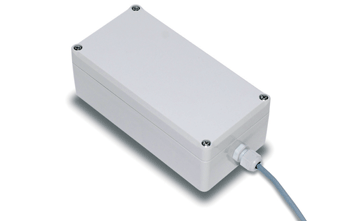 GreenSensing PT100
GreenSensing PT100 is a dedicated ZeroPowerWireless transponder for PT100 temperature probe readings. The device is also present to read digital temperature probes (based on AD7301 or AD7414) and, more generally, to read analogical and digital output transducers.
GreenSensing PT100 has no on-board battery and activates only when stimulated by the reader. Its function is to acquire data from the temperature probe and transmit them continuously by radio to the reader while powered.
GreenSensing R420/R232
GreenSensing R420/R232 is a ZeroPowerWireless reader present to be powered by a 12VDC or a 24VDC source and to output the data transmitted by the transponders through either a 4-20mA analogue output or a RS-232 interface. The device is also preset to be powered from, and interfaced to, a PC by a PS2 or a USB port.
GreenSensing PT100 and R420/R232 systems
GreenSensing PT100 and R420/R232 systems allow to read a PT100 temperature probe without Requirements for a physical cable connection between probe and measurement system, they are consequently particularly suitable to read temperature from moving parts in machines. Additionally, they can be used to detect temperature, but also other physical or chemical quantities, in difficult or unusual locations, for example from within walls or floors, closed and isolated environments, test points scattered on the territory. No on-board batteries on transponders make GreenSensing devices particularly interesting and innovative compared to other solutions on the market, for two reasons:
They are virtually maintenance-free
They are easily disposable and environment-friendly
Technical Characteristics
GreenSensing R42O Reader
INTERNAL DEVICES
Frequency: HF 6.78 MHz (world-wide usable frequency for industrial RFID)
4-20 mA (4 mA = 0°C. 20 mA = 100 °Cs)
Reading distance: Max 10 cm
INTERFACES
Rs-232 (*)
PS2 (*)
USB (*)
POWER SUPPLY
24Vdc, absorption 50 mA
WORKING TEMPERATURE
-20°C / 80°C
DIMENSIONS
Width 8cm – Height 16 cm – Depth 5.8 cm
WEIGHT
200 g
PROTECTION DEGREE
IP65
GreenSensing PT100 Transponder
INTERNAL DEVICES
Frequency: HF 6.78 MHz (world-wide usable frequency for industrial RFID)
Measured temperature: 0 - 100°C, 0.33°C resolution, absolute error ±1°C
Relativee speed: Between transponder and reader max 3 m/S
Communication distance: Max 10 cm
Sensors: PT100 2 or 3 wires, digital 5 wires
POWER SUPPLY
From radio waves sent forth by the reader
WORKING TEMPERATURE
-20°C / 80°C
DIMENSIONS
Width 8cm – Height 16 cm – Depth 5.8 cm
WEIGHT
200 g
PROTECTION DEGREE
IP65